A creative music activity from Berkshire Maestros for under-fives with opportunities for engaging parents and carers.
A creative music activity from Berkshire Maestros for under-fives with opportunities for engaging parents and carers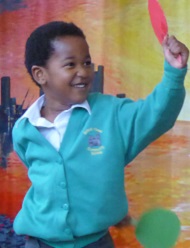 Pantomimus is a transformative music space offered by Berkshire Maestros (Music Education Hub) that emphasises the enjoyment of music making through expressive movement, singing, and learning to play rhythms on simple instruments. The project includes training sessions for teachers and also invites parents and carers to join the sessions. The colourful pop-up background transforms school spaces into a different world – creating a safe environment that enhances focus and limits distractions. Non-verbal approaches help engage all children.
pantomimus from inspiremusicorg on Vimeo .
What are the goals of the work?
The Berkshire Maestros early years department is developing an inclusive, grass roots ethos that uses music as a tool for the general and holistic development of young children and their wellbeing. This approach to music education includes basic musicianship understanding and development. Pantomimus is part of a regular programme of outreach to schools and other settings.
Pantomimus provides a pop-up screen with an engaging, and open-ended painting. This is designed to gain and sustain children's attention in large, cluttered and noisy spaces, such as school halls and busy classrooms. The screen helps to focus the children's attention on the musical activities and can be used to stimulate imagination and as a starting point for exploration of themes and ideas. The musical activities that are presented in the space are devised to develop musicianship through movement—in the first instance—with singing as a key element. The musical activities adopt a simultaneous learning approach that uses various elements of the eventual product (a piece of music), e.g., using body and rhythm to explore the piece before playing it.
The curriculum approach has been specially devised to meet the outreach aims of Berkshire Maestros. Berkshire Maestros are committed to the importance of working at helping children to experience music at an early age in order to not only build their skills, but to awaken a love of music. Pantomimus was originally funded by a grant from the Arts Council England, but now settings book and pay for a series of sessions (one term initially) that includes twilight training sessions for the school staff members as part of the package. Parents and carers are invited to attend and participate in the final session.
The key target outcomes are:
Engagement – keeping children's attention and support their interactaction with the process;
Participation – through reciprocal, flexible responding to children's ideas;
Communication – led by what the local teachers say that they need most. Communication includes means other than language, such as musical gestures and physical gestures;
Listening skills – recognising, associating and memorising;
Musical awareness and musical skills – singing in tune, keeping a pulse, sharing a beat, pitch matching; and
Wellbeing and confidence, with a motivation towards learning in general.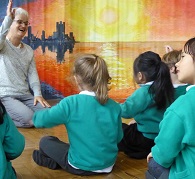 What is the context of the work?
The work is led by Berkshire Maestros' (the Music Hub) Early Years Department.
The age of children ranges from birth to 7 years.
Pantomimus is available across Berkshire to around 750 children per year.
This inspire-music case is located in Oxford Road Primary School, Reading, who have worked with Pantomimus for one term in 2016. This school is situated in a transient community with 90% of the children EAL. The learning outcomes in the early years of school are focused on communication and language.
Pantomimus has been reported to be very effective is assisting with this important focus.
What is the content of the work?
\nThe main contents of the Pantomimus approach are as follows:
Multi-sensory learning, i.e., an invigoration of the senses that allows for deeper learning;
Musical skills – rhythm, pitch, pulse, awareness of compound and simple time;
Awareness of the regularity in pulse through movement; plus
A sense of liberation through dance and movement that gives a deep sense of animation that is transferable to other learning. Develops fluid thinking.
Affect is developed through playful, concrete props that are used to initiate links for the leader to enter the children's world, such as a cat puppet or ball to develop a series of activities.
Social dimensions are present throughout with turn taking, circle games, and moving in the space (in relation to others, leading or following).
What are the key features of the teaching and learning approach?
How is the work being reviewed?
Every participant schoolteacher completes an evaluation form. These evaluations are used to review and influence the project's development. Sometimes adaptations to a purely Dalcroze-type session have to be made to align with school expectations and with circumstances. Very careful listening may not always be possible through movement and so this can be better achieved statically. Observation of the children and their engagement and attention is the primary indicator of success. Many sessions are filmed and staff are able to reflect on the children's learning through watching the films together. The school uses a Te Whāriki-inspired method of documenting children's learning stories. These learning stories include comments from teachers, parents and the child about their experience of Pantomimus, as well as stories of how they have built upon and extended the interest generated by the musical activities. (see…)There are several pop-up screens available, with different paintings on each. The design of the pop-up is still rudimentary and the desire is to produce something more convenient to install, store and use so that schools may consider buying and using one for musical activities in large spaces. Several thematic strands have been developed as part of using the screen and the hope is to create resource books that could be useful for teaching staff in schools and music practitioners.
Te Whāriki is a New Zealand devised framework for children's early learning and development within a socio-cultural context. It emphasises the relationships between parents, families and teachers
What are the positive outcomes for children/young people?
creating new sounds – originality in improvisation and composition
movement – experiencing music as a corporeal activity and phenomenon
performing existing repertoire – intonation, dynamics, phrasing, expression, fluency
listening – aural accuracy
musical knowledge – musical style and genre
expressiveness, aesthetic sensitivity and discrimination
self- and co-regulation: increasing self-reliance
originality and creativity
enjoyment, enthusiasm and interest
mood regulation and well-being
character: moral/spiritual development
individual and group activity
communication with an 'audience' (for example, parents attend and participate in one of the sessions, together with their child)
interpersonal skills and relationships with others
teamwork and co-operation

What are the key features of teacher/leader behaviour that are enabling those positive outcomes?
The combinations of movement and sitting engage and focus attention. Musical knowledge, skills and development are a key aspect of the positive outcomes. Examples of musical behaviours are: being able to improvise at the piano to accompany different tempi, expressions, moods and atmospheres; use of a variety of instruments (such as ukukele, guitar, accordion, whistles) to create different timbres and rich palette of sounds. There is also the additional use of recorded music from a wide cultural landscape, noted to be inclusive by the teachers as they perceived that no one particular musical tradition dominated the sessions. As their school's pupils are 90% English as an additional language, and teachers felt this aspect was particularly helpful.
Teaching and Learning
The key features of the teaching and learning approach are:
Opportunities for leader-inspired and learner-inspired music making
The approaches are designed to be open-ended and flexible.
Both oral and non-verbal communication are evidenced.
The pedagogic language has appropriate combinations of precise instruction and conversational discussion.
The music leader's questions are open-ended.
The task focus varies. For example, it can be on a specific musical aspect, such as experiencing different tempi or singing at pitch, but the task is positioned at an appropriate level for the group of learners.
The knowledge base draws on combinations of codified, rule-bound notions (such as singing at an appropriate pitch for young children and working on accurate pitch matching, or helping understanding of compound or simple time) and also imaginative negotiable improvised elements that are flexibly included to suit the needs of the learners.
What are the key features of context, content and activities that are enabling those positive outcomes?
Sessions are designed as part of the regular school day for client groups, such as Nursery and Reception classes and Year 1 children and pupils in special needs and disability (SEND) schools.
The Pantomimus programme offer to schools is for a minimum of 5 sessions, although most settings choose to begin with 10 sessions.
Sessions last 20-30 minutes and follow a structure with flexibility and improvisation approaches within the framework.
Hello and Goodbye songs mark the boundaries of the sessions.
Secure provision for technical, musical, social, personal and critical aspects
Materials and resources that match the developmental stage/age/of learners
An inclusive approach to the needs of individuals, groups and pupils with SEND
Being well-prepared to meet the requirements and aspirations of learners
Rich and relevant musical challenges, to create, recreate, listen and respond
Fluency and energy to give an appropriate and engaging pace
Positive and professional ethos, and response to individuals and groups
Progress is recognised musically and orally in sessions
Aims for sessions are set carefully, incrementally and communicated clearly, and are met
Informal feedback to participants is regular, through musical or verbal interactions
Learners are given opportunities to be involved, and these are recognised and logged
Programmes and elements are reviewed and developed with secure professional knowledge and skill
The focus of sessions is understood and relates to previous learning
Positive responses to new materials and resources, and to the consolidation of familiar work
The expectations of the music leader are clear to all participants
No barriers to participation
Awareness of how to make own, individual progress, as well as music making with others
Session generates enthusiasm, concentration and energy from participants
Individuals know how they can make a valued individual contribution or response
Participants know there will be opportunities to be spontaneous and share ideas
What other factors in this case are contributing to those positive outcomes?
In the school, the EY music specialist is an experienced Dalcroze teacher and music therapist who uses her musical knowledge and skills to facilitate affective interactions with children using appropriate musical activities.
How replicable or adaptable is it?
The approach, once modelled through the training sessions and through teachers' participation in the sessions with the children is seen as replicable, and the teachers report using and understanding the benefits of the approach, not only to musical learning, but to achieving other learning and development outcomes for the children in their classes.The songs, movement ideas, use of recorded music and instruments are easy for non-music practitioners to use and adapt for their classroom situations.
contact:
for further information contact Margaret Burrell at
This email address is being protected from spambots. You need JavaScript enabled to view it.