Aimed at exploring new approaches in music with under 5s in deprived areas of Norfolk.
Early Ears digital technology with under 5s
What is the context of the work?
Setting
Delivered across three Early Years settings in Norfolk, (although only two were active at any one time) the team delivered weekly 1.5hr sessions to 3-4 yr olds Great Yarmouth Earlham (Norwich) and Catton (Norwich)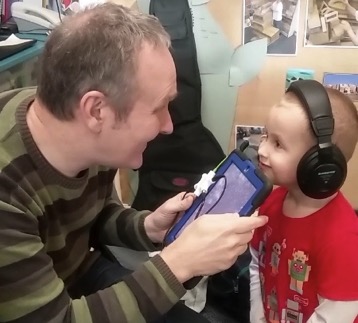 Age of students
3-4yrs old
No of students
Great Yarmouth – 24 children monitored
Earlham, Norwich -48 children monitored
Catton, Norwich – 9 Children monitored
Does the example fit into longer term plan or is it 'stand-alone'?
The Earlham setting will be embedding the learning and techniques from this project into their practice. Laboratory Media Education and Future Projects are working with Youth Music and partners to ensure that the learning, practices and intended progression projects inform the regional musical inclusion strategy.
Who is leading the work
This project was an 18-month, exploratory research partnership between Laboratory Media Education, Future Projects and Dr Wendy Lecluyse at University College Suffolk. The project was funded by The National Foundation for Youth Music.
Any other relevant information
The Early Ears project was aimed at exploring new approaches in bringing music to under 5s in deprived areas of Norfolk and to improve the musical and wider development of these children.
Due to intake and free play between classrooms, many more children engaged and benefited from the activities delivered than were monitored. These settings had high numbers of children with SEND, including a high number having English as a second language.
Where a need was identified, the music therapist in the team would deliver music therapy sessions on a one to one basis with selected children, who it was felt would most benefit.
What is the content of the work?
To improve the standards of music delivery for children and young people
To embed learning and effective practice in host and partner organisations
To extend understanding of how the use of modern music technology, music techniques, and music therapy can improve the development of children under 5 in challenging circumstances.
To improve skills, knowledge and capacity of early years and music providers to improve outcomes in children under 5 through music.
To improve social-emotional, cognitive and music making skills in children under 5 in challenging circumstances.
For the first 16 months we delivered music sessions using music technology in one setting and in the other we used "traditional" acoustic, or "non tech" instruments. Where possible, we tried to deliver the same content in both settings. Musical activities were delivered in a number of ways; circle time, as part of free play, in response to the actions of the child and as remote unsupervised free play. Each session would have a different focus such as, types of engagement, effecting behaviour, turn taking or conducting. This was informed by reflection on the monitoring data and observation.
What are the key features of the teaching and learning approach?
Our approaches to teaching and learning were informed by the delivery team's backgrounds of two Community Musicians/Teachers and one Music Therapist.
Our approach was very much child centred, using non-directive relationships. This was a practice common to both community music and music therapy. Our non-directive approach meant that every musical response was valued and acknowledged. This encouraged interaction and responses from the children. This often took the form of musical conversations, (As shown in the video clip). These conversations used a range of interaction techniques that fall into the following categories: mirroring, matching, imitating, supporting, accompanying and reflecting.
It is important to understand that although our musical delivery was non directive, practitioners in the team supported the staff and children in the settings by following the classroom management policies in each setting.
How is the work being reviewed?
During sessions, while one of the team delivered, the other was observing and monitoring the children's behaviour and interactions. Where unexpected or interesting outcomes were observed, nursery staff were consulted to give additional context to the child's behaviour.
With the content and indicators to focus on for each week agreed during planning, the delivering facilitator was also free to signpost any behaviours, learning or indicators to the person monitoring.
At the end of every session the team would meet to input the monitoring data, record our reflections and use them to plan for the next session.
A combination of structured observations, focus groups and surveys with the early years and music practitioners, questionnaires for the parents and short cognitive and auditory tests with the children have provided the baseline data for our monitoring.
During each session, children were observed using a customized monitoring tool. The monitoring tool was based on an existing protocol used within music therapy, IMTAP, Individualized Music Therapy Assessment Protocol. A modified version of this tool was used that divided the data into the following areas.
Musicality
Social Skills
Emotional Skils
Social Skills
Cognitive Skills
During the final months, we wanted to explore if the engagement of the children was dependent on a specific approach. Instead of assigning one particular approach to one particular setting, both approaches were now delivered in both settings. Each session would start with either tech or non-tech activities with a changeover in the middle of the session. This enabled us to test our ideas and approaches.
Our monitoring and reflective practice highlighted that some children were not engaging.
We also identified that the context of the data and reflection were very much dictated by how the child engaged with an activity. This led to further discussions about whether boys or girls engaged differently.
To help us explore this and other patterns, the following indicators were added to our monitoring:
Engages in independent play
Engages in Peer-led or Peer-initiated play
Engages in facilitator-initiated play
Engages in individual facilitator-led play
Engages in group facilitator-led play (circle time)
In most planning and delivery there was a consensus as to how to approach each session or issue. Where approaches differed, we often used this as an opportunity to observe each others idea of best practice and reflect. The delivery team were active in drawing upon and supporting the monitoring of children by staff in the setting. Each week the staff would be consulted about the sessions before delivery to ensure sensitivity to any recent or personal issues for the children.
What are the positive outcomes for children/young people – are they some or all of musical, social, personal, educational - how and when can they be identified?
The main areas of learning from the project are related to accessibility, engagement, music tech as an approach, monitoring, positive relationships and enabling environments.
We viewed success as positive engagement with the musical activities planned. Progression was considered as eliciting new and positive social, musical, emotional and cognitive behaviour. In many cases children celebrated their musical progression by sharing with us or their peers.
When considering Tech and non-Tech engagement in independent play, separately, girls show slightly higher levels of engagement in the Tech approach. In the Non-Tech approach the numbers between boys and girls are more similar. In fact, the boys show a very small engagement advantage over the girls. This is in contradiction with the informal assumption that boys seemed drawn more to Tech music making than to Non-Tech music activities.
We observed that the use of digital instruments enabled children to make a wider range of expressive sounds as opposed to the many hours needed on some analogue instruments to produce a satisfactory sound. This enabled children to explore more advanced areas of performance and composition such as improvisation, soloing and phrasing.
In some sessions, children would start exploring the settings in apps and auditioning sounds other than those set up. Upon reflection it was realised that to navigate 3 or 4 layers of menu and change the sound is an advanced and transferable skill for a 3 yr old but this had to be balanced with children getting stuck in the loop of auditioning rather than using the sounds musically.
One of the areas of learning for us was that with a wealth of technology available to us, we often had a richer experience by developing our approaches to delivery than introducing new technology each session.
The quieter children displayed twice the number of Tech engagement events compared to non-Tech engagement. This could be due to many factors and requires further systematic evaluation.
The multi-modal (sound and vision) aspect of music technology encouraged engagement, led to children using more descriptive language and gave them new ways to create sound through imagery and imagery through sound.
What are the key features of teacher/leader behaviour that are enabling those positive outcomes?
See Approaches to teaching and learning above
A non-directive, child-centred, attuned approach
Knowledge of early childhood music development
Knowledge of appropriate technology
Music therapy techniques
Strong reflective practice
What are the key features of context, content and activities that are enabling those positive outcomes?
See Approaches to teaching and learning above
Good relationship with the setting – which allows the project to work in a multitude of ways
Conversations and reflections about children with the setting to see how the project was affecting children's behaviour
Reflection time built in after sessions
Peer observation built into sessions
What other factors in this case are contributing to those positive outcomes?
See Approaches to teaching and learning above
Driven by an organisation which has
An understanding of the socio-economic landscape of the area and how that impacts on education.
Deep interest in how children progress and what impacts on their progression.
How replicable or adaptable is it?
Our learning from this project has informed the development and delivery of an inset training package that was delivered in the settings . We have also delivered the training at University Campus Suffolk and have received requests from outside organisations.
Although we used the IMTAP assessment framework, when delivering training we mapped all learning to the Development Matters Framework. Before receiving training, making music using technology such as ipads was typically monitored by staff as within the learning areas of:
Understanding the World
Expressive Arts and Design
Our training focused on using music to measure the three prime areas of learning
Personal ,Social, Emotional,
Physical Development
Communication and Language
Resources
Early Ears video playlist
Early Ears Impact Report
A copy of the Early Ears project impact report can be found here