Artist Bootcamp provides young people from disadvantaged backgrounds with 18 hours of music training from some of the UK's top musicians in order to help boost their skills, aspiration and confidence. The three-day workshop combines group work with opportunities to have one-to-one sessions with tutors.
Artists Bootcamp is an example of a Music Education Hub working across genres, with youth voice and urban music being a strong driver.
Description
Artist Bootcamp ( http://www.acts29.org.uk/artist-bootcamp/ ) is a specialist music-training programme run by Acts 29 in partnership with Ealing Music Partnership Hub (EMS). The partnership was established in 2013 and focuses on providing opportunities for young people with an interest in pop, rock and urban genres. The repeated three-day programme offers 18 hours of master classes and musical training with professional singers and musicians, as well as one-to-one vocal and instrument coaching sessions, big band/choir style jam session and a mini showcase opportunity at the end.

The Ealing Music Service (EMS) mission statement includes the objective "to secure a rich musical legacy for all its children and young people – maximizing the potential of every child through collaborative music making, rejuvenating professional learning to secure confidence in the workforce and accelerating progressions pathways for our most talented young musicians". The partnership with Acts 29 is able to plug an identified gap by providing opportunities to young people who are interested in rock, pop, urban and electronic music and those who wish to pursue a career as part of a band. It also supports EMS in their aim to provide access to high quality music making opportunities after school and during school holidays.
Acts 29 ( http://www.acts29.org.uk ) is a registered charity and has been in operation since 2004. Their core programme falls into two categories: artist development and community engagement. The artist development programmes place an emphasis on the identification and nurturing of artistic and creative talent, especially in the Urban Music genre; this process is underpinned by professional youth work. Their community engagement programmes have an emphasis on youth work with creative and artistic themes. Acts 29's vision is to work towards a world where young people are empowered, equipped and supported through the arts to realise their ambitions and mobilise their potential in order to transform their communities, their nations and the world.
The partnership with Acts 29 can be seen to enhance and support the music curriculum particularly through the technical training which young people receive through the Boot Camp project. Artist Bootcamp aims to identify and support the development of young people with significant musical talent and potential. Young people who participate in Bootcamp often go on to be involved with Spotlight (formerly Battle of The Bands) ( http://www.acts29.org.uk/acts-29-battle-of-the-bands/ ), a music showcase competition and also the Ealing One Youth Festival.
What is the context of the work?
Artist Bootcamp takes place for three days every half-term at the ECC building in Ealing, London. It is aimed at young people aged 12 – 19y who are able to play an instrument and/or have some experience writing songs, raps or producing. The pupils must attend school or live in one of the West London Boroughs of Ealing or Hillingdon and schools are notified of the Bootcamp through flyers and EMS. Places are awarded via auditions that are held at applying pupil's schools. In October 2015, 11 Secondary schools were visited across the two boroughs. 160 students were auditioned and interviewed, of which 88 were offered places and 68 attended.
The work is led by Acts 29 who receive support from EMS in the form of a platform on which to reach Ealing Secondary schools and Heads of Service, a free loan of instruments for pupils to use during the Bootcamp.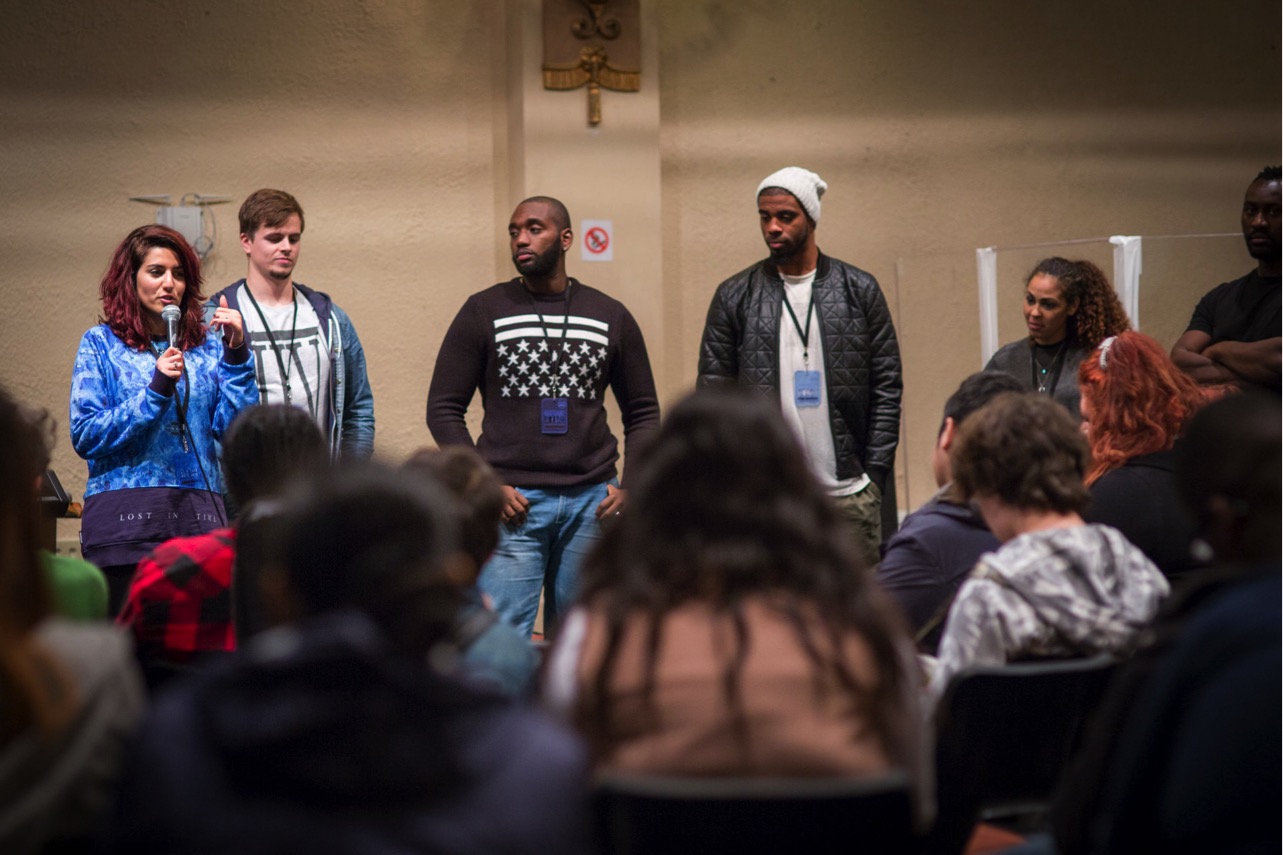 Auditions are usually held at the end of the day at each participating school. However, in October 2015, in response to requests from young people, there was also a Saturday audition. This was particularly supportive for young people who were not able to audition through their school. The programme supports young people's access to music–making opportunities in areas with, customarily, lower cultural engagement. The October out-of-school audition was held in a professional recording studio in Acton and aimed to provide an additional sense of aspiration for young artists.
What is the content of the work?
The Bootcamp itself comprises a range of music master-class sessions, performance coaching, music industry seminars, workshops and Q&A sessions provided by professionals with significant experience of the music industry. Recent coaches and contributors have included M. John (vocal coach for Rita Ora and backing vocalist for Eric Clapton), J. Tuitt (drummer for Emeli Sandé) and L. English (solicitor at Sony Records). Students learn and rehearse existing repertoire and focus on performing skills, both individually and as a group. Most of the learning is aural with notation only used if requested by students.
The input and affirmation of established artists and music business executives has proved to be a powerful tool in raising young people's skills and confidence. Performing with and in front of their peers is perceived to help create a safe environment where everyone feels able to express themselves without fear of ridicule and in a context of respect for others. Students are encouraged to support and give feedback on performances and also to reflect on their own performances and progress.
Doors open at 9:30am and young people can help themselves to a free self-service breakfast prior to daily orientation and a "thought for the day". Each day is busy, but comfortably paced to allow a fun yet focused environment. Short breaks and lunch punctuate each day in order to give time for young people to relax, chat and make new friends.
At the end of the three days is the mini showcase. The event is set up on a full size theatre stage with professional PA system, including fold back monitors. This provides an opportunity for the young people to display and evaluate some of their new skills and also demonstrate and refine their performance skills in a public, but safe, setting. Each artist is cheered on through their performance by the rest of the group, creating a warm and encouraging environment in which young people feel comfortable to try. For many, this is likely to be the first time that they will have felt enabled to step out to perform in public on their own.
There is also an opportunity to take part in Band speed dating. This is a 60-minute session aimed at helping young people to develop new friendships around music and encourage the formation of new bands and groups. Young people are given a menu of questions to help get them started and have two minutes with each person to chat about interest around music, and to see if they find any natural connections. After this, they are encouraged to form new groups around these perceived links and are given a 90-minute window to jam/rehearse in their new configurations. Students are also encouraged to think about what might be missing from their band and to be deliberate in inviting new collaborators. Many of the young people report how much fun and impactful they find this exercise. A number of these bands have stayed together and are still making music.
There is a youth worker present throughout the three days to offer pastoral support and advice to any young people in need.
Typical three-day Bootcamp Timetable
Day 1
Morning: Master class sessions
Afternoon: One-to-one or Breakout sessions: Performance techniques workshop or Choir workshop
Day 2
Morning: Master class sessions
Afternoon: Band speed dating followed by rehearsals
Day 3

Morning: Big Band jam
Afternoon: Rehearsals followed by showcase
What are the key features of the teaching and learning approach?
The learning approach is inclusive and all students who attend the Bootcamp are given the opportunity to work alongside tutors who mainly use modelling to help develop pupils musicality, technique and performing skills. Many pupils may not be having regular lessons; therefore, the approach is firmly based on also developing self-study techniques and strategies. Students have the opportunity to take part in peer-to-peer learning where their work in groups or pairs and listen to and appraise each other.
How is the work being reviewed?
Acts 29 complete a survey of participating students and also have video and audio evidence to illustrate pupil progress during the Bootcamp and at the final showcase at the end. As the project is only over three days, the outcomes are recognised as being related to what can be achieved in the allocated time. Pupils are asked to comment on their learner experience, musical learning and social factors and to keep a diary. A report is produced outlining outcomes, challenges and considerations for future Bootcamps, which is shared with stakeholders.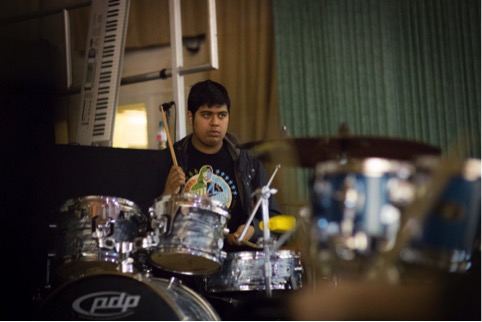 What are the positive outcomes for children/young people?
The positive outcomes for children and young people are musical, social and personal. These can be identified by the following markers:
97% of young people that were surveyed felt that the Artist Bootcamp had helped develop their confidence and 87% felt they had learnt new artistic skills;
73% agreed or strongly agreed with the statement "I have made new friends and connections around music";
17 young people started or joined a new band during the October 2015 Bootcamp;
90% of young people agreed or strongly agreed with the statement "I believe I could have a career in the music industry in the future"; and
76% rated Bootcamp 'better than expected', 24% 'as expected'.
What are the key features of teacher/leader behaviour that are enabling those positive outcomes?
Bootcamp works well due to the creative and innovative approach of the team. In addition, there is a good ratio of youth workers and tutors to students. The tutors and youth workers are able to provide musical, operational and relational support for young people on the programme in order to ensure that all the young people remain highly engaged throughout the programme. The team work collaboratively to ensure that they pick up on young people who seem to be alone or relatively isolated and to get them involved alongside their peers.
What are the key features of context, content and activities that are enabling those positive outcomes?
From the starting point of possible entry to Bootcamp, during the auditions, students are encouraged to sign up via their music teachers and are given a five-minute slot as a group or solo act. The auditions attract a diverse range of singers, musicians and rappers from all age groups. Many of the Bootcamp team are young males, including the team leader who has a professional singing background, and these visible role models have resulted in a high proportion of boys auditioning as singers.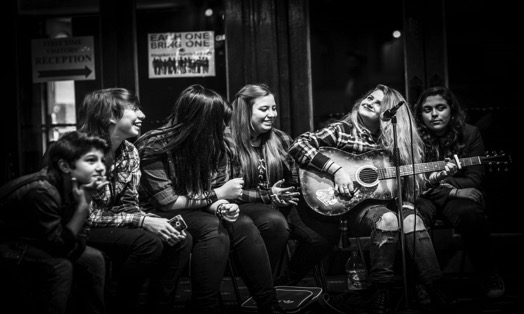 The whole audition, interview and selection process is carried out in collaboration with music teachers from each school, and in every case the team are very careful to offer positive feedback and make a point of encouraging every candidate to keep going in their musical journey.
Throughout the three-day Bootcamp, the leaders ensure that:
Progress is recognised musically and orally in sessions;
Aims for sessions are set carefully, communicated clearly, and reviewed at the end of each day (student reflection and teaching briefing);
Informal feedback to participants is regular, through musical and oral interactions;
Learners are given opportunities increasingly to be involved in decisions about progress and attainment, and these are recognised and logged; and
Programme and course are reviewed and developed with secure professional knowledge and skill.
Throughout the three-day the Bootcamp learners are expected to:
Be on time and be fully engaged in the musical activities;
Be ready to learn;
Have a positive and growth mindset towards their ability and confidence in participating; and
Work individually, both in small groups and as a whole cohort.
What other factors in this case are contributing to those positive outcomes?
One key factor contributing to these positive outcomes is the fact that there are very few other opportunities for interested students to take part in this type of activity. Customarily, a majority of out-of-school music provision is centred on orchestras, with music centres offering Western (classical) instruments taught in a traditional approach (such as Saturday morning centres, individual lessons and perhaps ensembles). Consequently, students who prefer to play and learn in a less formal and more relevant environment (in terms of their musical interests) are often excluded. The success of Bootcamp is borne out of its ability to reach these students and offer them a high quality musical experience.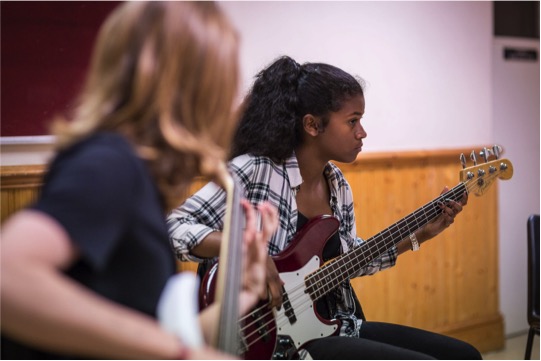 How replicable or adaptable is it?
It is replicable and adaptable, but in order to offer an equivalent rich experience careful consideration should be given to the profile of the music teachers and leaders, including the programme's use of music industry professionals and to ensure an appropriately diverse and reflective workforce.