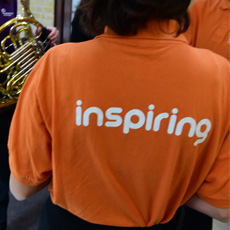 Welcome to inspire-music...
a place for everyone involved in music education – school based, community based, formal, informal, non-formal - to be curious, to be inspired and to think about what really works. Inspire-music has been created by a National Working Group chaired by Professor Graham Welch, supported by Programme Director Katherine Zeserson, and funded by the Paul Hamlyn Foundation.
Inspire-music aims to help
Improve the range and quality of experiences in music and through music for all children and young people;
Encourage and support curious, creative thinking amongst those leading and managing music education; and
Contribute to a strong, supportive learning community across the diversity of the workforce.
Inspire-music focuses on sharing experience underpinned by evidence. It is designed to be a peer-learning resource that presents real-life examples of practice that is working well, as measured by positive impact on children and young people. It shares the key principles that underpin that effective practice, so that others may be inspired and encouraged to develop these in their own work.
Inspire-music is committed to an affirmative, asset-based approach to collective reflection and professional learning. In working with these underpinning key assumptions:
Outcomes matter – practitioners aspire to do their best to support students / participants to flourish and make progress in and through music;
Reflection matters – the better we understand what is going on in our learning environments, the easier it becomes to make good choices for everyone;
Information matters – the more we know about what others have tried, the more we have to draw on in making our own choices;
Context matters – one person's 'excellent' practice might not be as viable in another situation; and
Support matters – feeling understood, valued and respected encourages us to take risks, try new things, share our experiences honestly and expand our personal and professional networks.
How to Use
There is no single or right way to use inspire-music.
Here you can explore case studies drawn from a wide range of contexts, including school classrooms, early years settings and community locations. There are examples of inspiring work with children and young people that ranges from babies to older teenagers, led by classroom teachers, community musicians, instrumental tutors and other practitioners. These cases have each been included because they are examples of effective learning and teaching – they tell local stories in which positive outcomes are achieved. They are not meant to be comprehensive of all effective practice across the country, but rather to offer examples that illustrate the likely nature of this effective practice. The cases represent an initial set; over time we hope to add and expand these to illustrate further the rich diversity that characterises effective music education in England.
The cases are collected and organised around themes:
Early Years (pre-school);
School Key Stages 1, 2 and 3;
Special Educational Needs and Disabilities (SEND);
CPD and Training;
Technology;
Music Education Hubs; and
Community Music.
Theme Overviews
All the cases are reported through the lens of a common inspire-music effective practice framework. We hope that this will make it easier to make sense of the common–and different–characteristics, as well as the underpinning principles in the cases. There are also supporting materials that you can explore to deepen and develop your understanding of what underpins the exampled practice. There are short film clips featuring young people, Head Teachers and others talking about how to make music education engaging and sustainable.
You can use inspire music in many different ways. It is a searchable database, so you can explore by search term. For example, simply type in a term: e.g. 'inclusion' or 'progression' and you will see all the cases and references that connect to the term; or by theme, searching out all the cases related to one of our themes.
You can use inspire-music on your own or shared with others, exploring the resource to stimulate your critical reflection, thinking and understanding.
You can use inspire-music to support staff or team development over time. Decide how many sessions you will spend together and how long they will be. Then select an idea or theme (e.g. improvisation, or using technology in the classroom). Search for relevant materials in inspire-music, and then use your first session or sessions to view and discuss the materials, using some prompt questions, such as for example:
What aspects of the example case(s) touch on your own learning and teaching in music?
Did you agree with the analysis of the case (s) presented? If not, then why not?
How did what you see relate to your own situations or experiences of working with similar groups?
Are there any ways that you think you could improve outcomes for children and young people in your situation based on what you have seen? What are your ideas? How do they relate to the principles or examples?
You could then agree some actions that people would take – e.g. new ideas that they might try out with their students/groups, or further research and exploration that they might bring back to the team – and then, in subsequent sessions, you would share and reflect on those insights.
Background
Paul Hamlyn Foundation is a major UK philanthropic foundation established in 1987, giving around £25 million per annum to "help people overcome disadvantage and lack of opportunity, so that they can realise their potential and enjoy fulfilling and creative lives" www.paulhamlynfoundation.org.uk . PHF has a long history of investment in 'education and learning through the arts'.
As part of a long-term overall strategic review in 2014/15, PHF Trustees commissioned Katherine Zeserson and Professor Graham Welch to carry out a research investigation into music in English schools, published as Inspiring Music for All, in June 2014.
The report concluded
The great opportunity presenting itself is to thread together the new National Curriculum and the National Plan for Music Education (NPME) through an outcomes-based approach, taking account of all that should be available through the mixed provision advocated in the NPME;
All stakeholders in the music eco-system need to work together more effectively to improve the quality of provision and to disseminate best and next practice;
The sector itself must lead this drive to consistent quality and integration in order for it to be sustainable;
Current models for music teacher education and post-qualification CPD need to be thoroughly reviewed and improved; and
Governing Bodies and Senior Leadership teams need to be inspired and supported to understand and demand high quality music education at the heart of school life.
At that time, the headline findings in the report were that:
The place and status of music in English schools vary widely across the country;
The best music in schools is significantly more inclusive, more musically diverse and better quality than it was a decade previously; and
The quality and reach of schools-based music education is still unacceptably variable and inconsistent at all levels.
Key issues underpinning those findings were:
Low teacher confidence, often stemming from insufficient depth of initial teacher education (ITE) and lack of engagement with post-qualification continuing professional development (CPD) and available professional networks;
Weaknesses in curriculum and pedagogy;
Retention and progression in music;
Insufficient support from Senior Leadership teams;
Insufficient local and national support structures; and
The impact of recent education policy changes.
PHF Trustees invited Professor Welch and Katherine Zeserson to establish the inspire-music National Working Group in March 2015 as a response to these issues with a view to capturing examples of effective practice in music learning and teaching and disseminating these across the sector to stimulate insight, debate and, hopefully, leading to a general progression in the quality of music education for all.
working group members
Charlotte Arculus, Independent Practitioner (Early Years)
David Ashworth, Independent Advisor (Music Technology)
Noelle Boucherat, Independent Practitioner (Primary)
Abigail D'Amore, Musical Futures
Philip Flood, Sound Connections
Sophie Gray, Independent Practitioner (SEN)
Margaret Griffiths, Independent Advisor (Learning and teaching)
David Hargreaves, Roehampton University (Psychology of Music)
Matthew Haworth, Egglescliffe School (Secondary)
Sarah Hennessy, Exeter University (Teacher Education)
Evangelos Himonides, UCL
Trevor Jones, Worcestershire County Council / Worcestershire Music Education Hub
Ian Mollatt, Canterbury FE College
Pete Moser, 'More Music'
Adam Ockelford, Roehampton University (SEN)
Julia Partington, Sage Gateshead (Early Years)
Jessica Pitt, Independent Researcher (Early Years)
Peter Romhany, Morpeth School
Jo Saunders, UCL Institute of Education
Samantha Spence, Ealing Music Partnership Hub
Julie Spencer, Independent Advisor (Music Hubs/Primary)
Graham Welch, UCL Institute of Education
reference group members
Laura Gander-Howe, Director of Learning and Children, Arts Council England
Matt Griffiths, Chief Executive, Youth Music
Dick Hallam, Chair, Music Education Council
Lord Claus Moser†, Trustee, Paul Hamlyn Foundation
Julia Patrick, Head Teacher, Castle Rock School
Graeme Smith, Chair, Music Mark
Jane Steele, Paul Hamlyn Foundation (reference group Chair)
Miles Wallis-Clarke, Head Teacher, Hotspur Primary School
Truda White, Chief Executive, Music in Secondary Schools Trust