An Initial Teacher Training programme delivered by University of Greenwich, in partnership with Trinity Laban Conservatoire of Music and Dance.
University of Greenwich with Trinity Laban Conservatoire of Music and Dance – Secondary Musicians in Education Initial Teacher Education Programme
The Secondary Musicians in Education is an Initial Teacher Education (ITE) Post Graduate Certificate in Education (PGCE) programme for music teachers. It is offered as a collaborative programme between two Higher Education Institutions in SE London: the University of Greenwich and Trinity Laban Conservatoire of Music and Dance.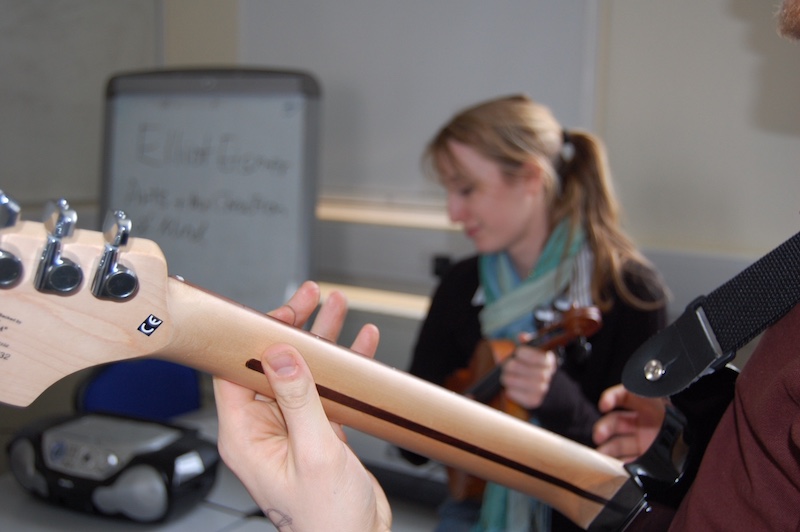 Goals
The aim of the programme is to prepare flexible and creative musicians who are confident and able to work across mutiple educational contexts. This is conceived as a novel contrast to many initial teacher education programmes in music that have customarily focused solely on a formal curriculum context in school or further education.
Context
This is a one-year postgraduate programme for musicians who wish to qualify as music teachers in Secondary schools (pupils aged 11-19y). Successful students receive an academic qualification (PGCE) and a professional award—a recommendation for Qualified Teacher Status (QTS). The majority of students are recent graduates with a degree in music although career changers with wider experience have been very successful too. Within each year's cohort there are a range of musical backgrounds, including talented performers from conservatoires, music graduates who have followed a more academic pathway, and specialists in popular music and music production.
­
One of the things that attracted me to the course in the first place was that it seemed so open to the techniques and school of thought that comes from community music, which is the background I come from. I thought that would enable me to bring my skills into the classroom. That's how I think music should be taught anyway
student
The programme is founded on the belief that the best music leadership and teaching is built around common principles including actively making music, creativity, and young people's ownership of their learning. This philosophy underpins the teaching and learning at the HEIs and is crucial to the developing identity of the teacher-musician.
The input from the two HEIs draws on each institution's strengths and reflects an emphasis on principles of good music leadership and teaching that are nurtured to be transferable across many different contexts. The University of Greenwich has a long history of preparing teachers to work in London schools and encouraging students to explore the pedagogy of music in the school curriculum. Trinity Laban is a conservatoire with an emphasis on creative workshop practice and the pedagogy of instrumental and vocal teaching.
Reflection
On the surface, it may seem that this course is similar to any other one-year initial teacher education (ITE) programme in England, in that there is a combination of taught sessions and two substantial school placements in line with Ministerial expectations for ITE. Customarily, PGCE school-focused student teachers spend approximately one third of their time at their host HEI and much of the remainder experiencing on-site learning in schools. However, in line with the Secondary Musicians in Education's broader vision of music leadership, there are some important additional components in the Greenwich/Trinity Laban joint venture that extend and potentially challenge and enrich established practice in schools.
­
I remember at the beginning of the course I wasn't quite sure actually how it would fit in. Now, having been on the second placement in a school where it was actually possible for me to have the opportunities to try out things related to the creative music stuff, it has completely changed my teaching and, actually, I have found a way of how I want to teach
student
In particular:
During the second term, student teachers on this one-year programme spend a day each week working in placements in alternative music education contexts. These might be community projects, visiting artist workshops, special needs and disability (SEND) contexts that are undertaken alongside the second school placement. Most students have the experience of two such alternative context placements;
At the beginning of the third term, the students collaborate in small groups to plan and lead a self-directed creative music project in selected partnership schools, but in the role of visiting musician rather than as teacher. In these projects, they work intensively for two days with a group of pupils with whom they have been deliberately introduced as musicians and not beginner teachers.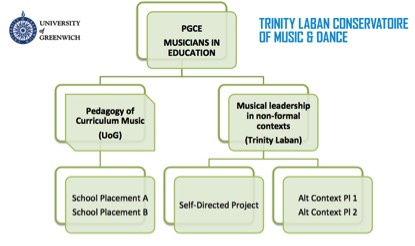 The holistic vision of the programme (with key ingredients illustrated in the figure) can lead to dissonance and uncertainty at times for the students when they sense that there might be a collision of pedagogies and world views between different realms of music education, or a difference of purpose from one pedagogical context to another. They may feel deskilled when moving from the 'one off' non-formal workshop to the more formal unit of work in school.
­
When I interviewed for my job in school they could have taken the view that as a result of these additional placements I had not spent as much time in the classroom, but I think the fact is that we do so much more on this course. It's not like it is a PGCE that is diluted to accommodate the alternative placements. You've got them on top of everything, so we have added credentials
student
As a route to Qualified Teacher Status (QTS) [https://www.gov.uk/guidance/qualified-teacher-status-qts], a key goal of the programme has to be to prepare students to meet the Secretary of State for Education's Teachers' Standards in a formal school context. This might seem at odds with the aim of preparing 'flexible and creative musicians who are confident working across mutiple educational contexts' in that QTS appears to be giving priority to music in the curriculum. However, the overall programme design seeks to challenge the notion of whatever might count as the status quo in terms of school based pedagogic practice, and the course team work to support students in reconciling the tensions between contrasting pedagogic traditions in order that they can establish their own distinct personal philosophy and successful practice.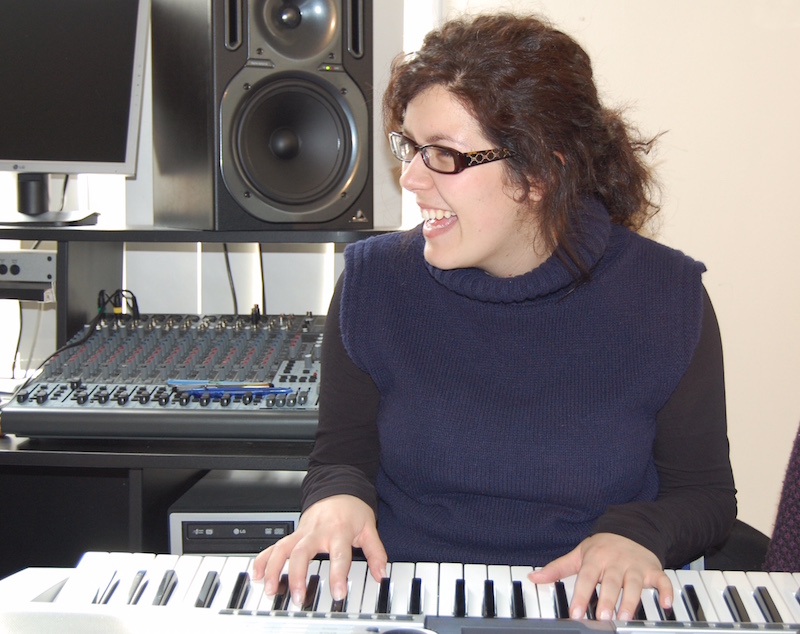 Resources
Key resources to support student development include:
Audio and related commentaries of a) student teachers' creative composition performance at start of programme; b) a Bartok project;
A summary of related research presented by Tim Palmer (TLCMD) at the Reflective Conservatoires conference last year and a recent paper on student teacher learning through creative composition process, based on Trinity Laban PGCE teaching;
Student reflection on different contexts for music leadership;
Photo library;
Student reflection; and
Programme promotional material (see http://www2.gre.ac.uk/__data/assets/pdf_file/0005/504833/D13082-15_SECONDARY_EDUCATION_MUSICIANS_WEB.pdf )